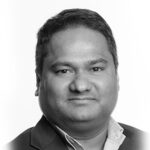 Jithendra Palasagaram
FOUNDER & CHIEF EXECUTIVE OFFICER
Jithendra is the Founder and Chief Executive Officer of Part Analytics. He founded Part Analytics in 2019 after recognizing pain points in electronics procurement industry and designing elegant and effective systems to address them.
Prior to founding Part Analytics, Jithendra spent 13 years in engineering and procurement functions at GE Healthcare.  Jithendra developed and executed strategy to digitize electronics spend management and get better visibility to spend and risk data across 4 different GE businesses and delivered $15MM in savings and proactively mitigated supply chain risk. Jithendra is passionate about procurement and supply chain management and has a keen sense for how technology can disrupt traditional silo-based procurement and strategic sourcing.
Jithendra holds a BS in Electronics & Communications Engineering from Bangalore University, an MS in Electrical Engineering from Auburn University, and an MBA from University of Chicago Booth School of Business.